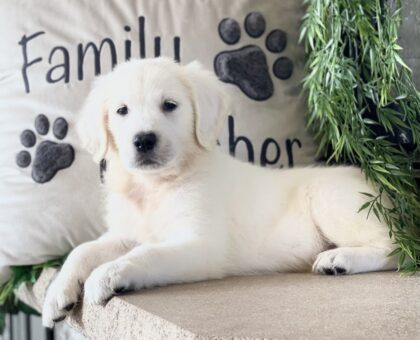 Genetics play a big role in the health and development of Golden Retrievers. As such, it's important to ensure that your dog is not susceptible to any diseases or future health problems. That's why many Golden Retriever breeders perform genetic testing to give future dog parents that peace of mind.
Nevertheless, not all genetic testing is created equal. OFA certification is the gold standard of genetic testing, and even then, only dogs with a good to excellent rating have fewer chances of developing conditions such as hip dysplasia later in life.
Here's what you need to know:
What Is OFA Certification?
OFA stands for the Orthopedic Foundation of Animals. While they were originally established to test for hip dysplasia in dogs, they have now expanded to test for various other genetic diseases and heart diseases.
When a dog is tested by the OFA, they can receive one of several ratings:
A dog with a good to excellent rating is the gold standard. They will have little to no genetically caused hip issues, and owners will pay the least amount of vet bills.
OFA Certification at MN English Golden
For our Golden Retrievers, we at MN English Golden test our dogs for genetic issues that can harm their hips and elbows. Blood work is performed, and a specialist examines a dog's x-rays to determine the Golden Retriever's condition.
We are proud to say that all our Golden Retrievers receive a good to excellent rating by the OFA. To learn more about our OFA certification and our puppies, be sure to contact us at 507-351-8510.