I could not be a happier customer! Our beautiful Lucy is truly a family member. Elaine goes out of her way to breed high quality, smart, and wonderful dogs. Even after nearly 6 years, I know I can call Elaine at mnenglish and ask questions or get advice. This kennel is not just in it for the money, but really for the love of the breed. I dread the future day when we will inevitably lose Lucy, but know that we will only purchase another Golden from this kennel. Our family remark about how wonderful our Golden Retriever is. Some friends watched her while we were on vacation and are looking to purchase from Elaine. People quickly come to realize how great our Golden is because of her beauty and temperment. I hold this kennel in the highest regard and wouldn't hesitate to give them my recommendation!
Jill Gentz - Facebook
HIGHLY recommend Elaine & her family!! They truly love their puppy's, excellent care, are great to work with! Elaine answered all of our questions and was amazing to work with. GREAT puppys! Our female Maya is so sweet, calm, loves to cuddle, and beautiful! Will for sure be getting Maya a friend and getting another puppy from Elaine and her family in the future! Thank you again!! We couldn't be happier and more in love ????
Bailee Lewis - Facebook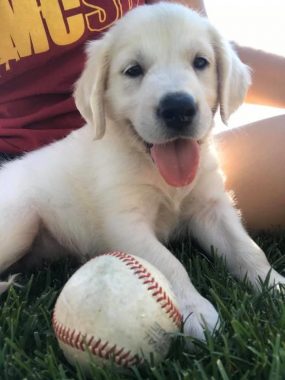 We love our Ripken so much! He will be 3 years old in June and is as healthy as ever! He brings so much fun personality to our family and fits right in. He loves to cuddle, play, go on walks and is always well behaved. Elaine was such a pleasure to work with. She made the process so smooth and kept us well informed about our future family member. She gives great information and tips for care and truly cares about her animals. 10/10 recommend MN English Goldens!
Emily - Facebook
We got our beautiful boy, Louie, a year ago, and he is truly a love. Lot of personality, loving, sweet……and so excited to get a little sister very soon. Elaine is a very knowledgable, caring and loving person who brightens the universe with her beautiful goldens!
Lorrie Cegla - Facebook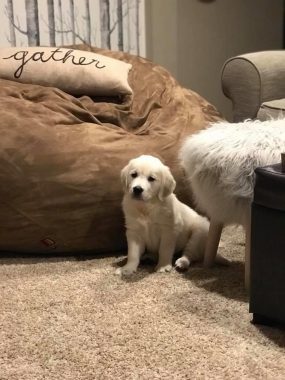 Such a friendly and knowledgeable breeder with beautiful puppies! Elaine is very personable and cares so much about the the care of the parents and of course the puppies! She loves to hear about how her puppies are adapting to their forever home and if you ever have a question, she's there to help you out.
Karen Vickers - Facebook
I have 4 yr old Sophie. she fit right in with my 12 year old golden. Elaine is wonderful, caring and has given me a lot of good information. she knows her dogs and and stays on top of testing and keeping her dogs healthy.
Dana Borillo - Facebook
We absolutely love our boy, Major! He is great with our little kids! He was bred from Buddy and Pearl. He is solid white and so beautiful. Major is calm yet very active and playful. He loves to swim, play fetch, and snuggle. We couldn't have wished for a more perfect puppy!
Christie Brama - Facebook
After researching several other breeders I decided on MN English Golden. Their history of testing and dedication to the health of their puppies was very important to me as well as the puppies being so thoroughly showered with love and attention from Elaine and family. Elaine has provided a wealth of information and instructions. I couldn't be more pleased. And we have the most adorable little baby girl you could imagine. I would highly recommend MN English Golden if you truly want a special experience and a beautiful addition to your family.
Julie Speckel - Facebook
We just picked up our new puppy Alta from MN English Golden and couldn't be happier! Elaine was fantastic in communicating with us about our puppy, both before and after we picked her up. She obviously care for her dogs and their puppies very much. She is also very thorough in providing information about food, care and vaccinations. She followed up after we left to make sure everything was going well and our puppy was adjusting. Our puppy is very healthy, happy and is so well behaved already! Thank you so much Elaine and family for providing such a wonderful and beautiful puppies!
Renee Borson - Facebook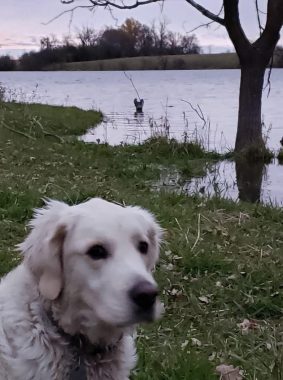 I have 4 yr old Sophie. she fit right in with my 12 year old golden. Elaine is wonderful, caring and has given me a lot of good information. she knows her dogs and and stays on top of testing and keeping her dogs healthy.
Tom - Facebook
Best dogs ever!!! I adopted a puppy about 9 years ago and will only go back to MN English Golden for any future family members! They truly are the best of the best! The family approach they follow ensures all puppies are well rounded and that the puppy is going home with a loving family of their own! We cannot wait to take home our next family member and will look no further than MN English Golden to take that next step!
Angela Margittay - Facebook
Our dog search began in summer of 2018. In search for the breed, we came across MN English Golden. We called and Elaine answered immediately. After a few minutes on the phone I felt confident with Elaine's depth of knowledge about the breed and confident the animals were of top quality and care. We were added to the wait lifts a fall litter and missed the opportunity as all were adopted. Thankfully, we made the next litter. Our pup was received in time for Christmas! These puppies are white as snow and as calm as a trained therapy dog. We are love our choices work with Elaine and if we ever expect to add to our family, MN English Golden would be our first choice.
Christopher Alden - Facebook
We got our very first puppy from MN English Golden and he is the best dog ever! We receive so many compliments and his's such a friendly dog. We're thinking about getting another one!
Amber James - Facebook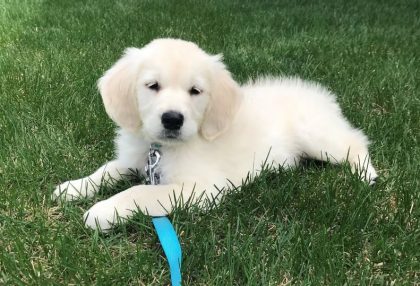 We had an excellent experience working with Elaine! She is an extremely knowledgeable, veteran breeder! Highly recommend MN English Golden if you are looking for a top notch English golden retriever!
Andi Kolling - Google
There's so much you need to know before even thinking about getting a Golden and Elaine could not have been more helpful. Everything she said was verified by article after article that I found on line but what clinched the deal for me was how they socialize their puppies. Their puppies are not outside in pens and kennels like most other breeders I found, their around Elaine and her family playing with people and learning immediately that humans are kind. Watch for my puppy in Red Wing
Bill Buysse - Facebook
I have two of their retired breeders. They are super sweet, lovable and happy. Everyone who meets them loves them! Thank you for giving me two sweet girls!
Sara Ovist - Google
I can't say enough about MN English Goldens! Elaine and her family are extremely passionate and knowledgeable about their puppies. I felt so comfortable making this big decision about adding a new addition to my family. It was honestly the best decision and experience. The family is also super personable. They were/still are available to answer any questions I have and give great advice. I have the best puppy ever. Not only is he extremely good looking, but he has the best temperament. He's super friendly to everyone, especially great with children, very smart and docile. I take him everywhere with me. If you're considering adding a new furry member to the family, you cannot go wrong with MN English Goldens!
Katelyn Myers - Google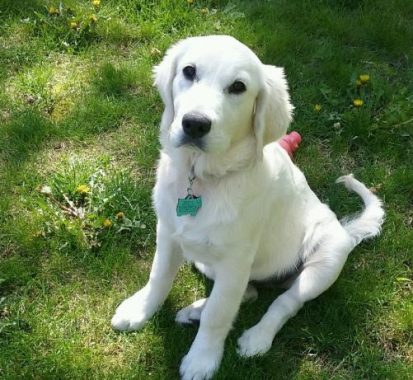 We purchased Greta March 2017 – She is truly a beautiful dog, with a big heart. She is a real people-pleaser and loves her family. We have had many, many compliments on her beauty! Would definitely recommend purchasing a dog from this breeder. Love Greta Tons!!!
Jennifer Miller - Google
Elaine and her family blessed us with a beautiful baby boy last fall. He is so much fun, full of personality, smart, and perfect in every way. We cannot thank them enough for him, the advice, and for answering our questions. We named our dog Chewy and cannot be more excited to add to our little family with another beautiful dog through MN English Goldens in the future.
Laura Lawton - Google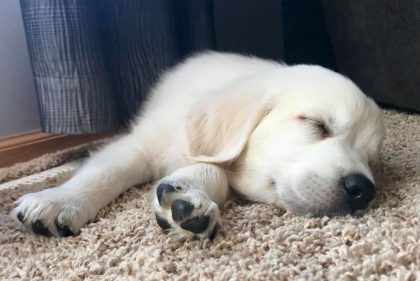 INCREDIBLE!!!! We have only had our little boy Calton for a few days, but we love him so much already! He is the BEST!! He is pretty close to being potty trained, is pretty mellow and so sweet. He's playful and fun and is already starting to understand some commands like come and sit!!! He's so smart. Elaine was WONDERFUL to work with. She gave lots of updates and pictures of the litter and also educated us on everything we needed to know about our English Golden pup. She is very professional and friendly. We totally trust her and would recommend her for sure!!! It was nothing but a fabulous experience!!! Thank you Elaine, Brandon and family!!!!!!!
Jenny Wangdu - Google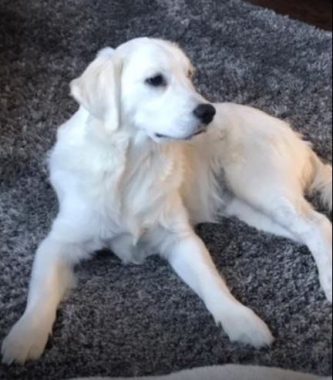 These people know their stuff, they educate you and deliver beautiful pups. My baby is six months old now and I don't know what I did without her. Great people to work with and excellent lineages. If you're serious about a English golden retriever,
I highly recommend using Minnesota English Golden.
Anne Baker - Google
Our sweet Hamilton has been to most wonderful addition to you family. At only 10 months old he is so calm. He is always smiling, so smart and so loving. We absolutely adore him. He is so good with our children. He is our 4 year old's best friend. Elaine and her family have been fabulous to work with. They are knowledgeable, responsive and their dogs are all part of their family. We are so thankful to have found MN English Golden and can't wait to add a MN English Golden playmate for Hamilton in the future.
Anna Andrews - Google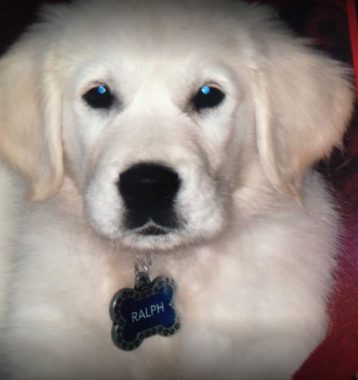 We welcomed our beautiful Ralphie into our family almost 8 years ago from Elaine and her family. He is the light of our life — he is the most gentle, beautiful boy. We love him dearly. Our dear friends also welcomed his half brother Theo into their family and they have so much fun together! We adore him.
Kathryn Ebeling - Google
Elaine and her family are knowledgeable about all aspects of breeding and care of Goldens and their puppies. She gives good advice and will help if you have questions or concerns after you take your puppy home. Our experience was positive and I highly recommend them. Our English Creme is now 3 years old and is sweet as can be. She is a wonderful family dog and is attached to all members of our family, but especially me. We are now waiting for our second puppy from her.
Julie Brown - Google
MN English Golden ~ Elaine is a great breeder that cares about her pups going to good homes. She gives a lot of info, recommendations, and tips.
Our puppy is smart, beautiful, and happy. She is potty training quickly and knows "come" with her name as well as learning both "sit" and "down." She even seems to naturally be close to learning shake.
She is going on 9 weeks soon and we've had her only one week. Just the last few days she is starting to test the limits more with nipping and trying to explore carpeted areas that she's not allowed in yet. She does want to please though and does very good with redirecting to her toys and positive affirmation. She follows us around and has both her calm and hyper moments.
She loves us and our family loves her! Everyone who meets her thinks she's amazing. ?❤️
Charity Stadler - Google
Our beautiful Emma is 2 yrs old now and she fills our days with joy. She is healthy, smart, gregarious, and loving. She is one of those rare dogs that smiles and our 8 grandchildren love when she smiles at each and every one of them.
The key here is family raised and loved from the start. Elaine is meticulous about her perspective buyers and every aspect of her puppies' lives to do everything she possibly can to help live long healthy lives.
My husband and I highly recommend this breeder. Beautiful Family Beautiful Dogs?
Marcia McEachran - Google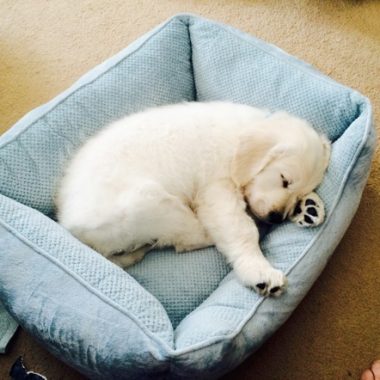 This seller Elaine is by far the best I've ever worked with—and this is my 4th Golden Retriever. Elaine is charming, flexible, compassionate and SO easy to deal with. And her Dogs? Gorgeous white/cream English Golden Retrievers; this is the most beautiful, sweet, lovely, and docile puppy I've ever had! His first night home, he didn't even (!!) wake us to go out…..at 11 weeks old! Teddy is a dream come true, as well as housebroken — and we've had him only 2 days.
All Golden's are great, but these puppies are unbelievable — so calm and darling and trainable: completely worth the investment. I just can't recommend this breeder highly enough. Golden Retriever rating?? Two tails up! A+++
Kate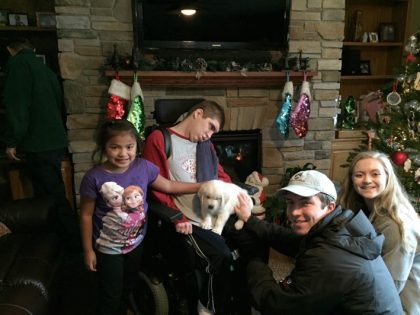 Hi Elaine,
I want to tell you how much we love "SUZY"! She is so sweet, smart, sassy and very funny!
She brings us Great JOY! She navigate the doors well and enjoys walks. She is doing good on potty training. She is well worth it and we are Thankful to have her. Thank You Very Much Elaine……
She is a Beautiful Girl.. Everything I Dream Of And More! Hugs to you all!
Nikki (MN)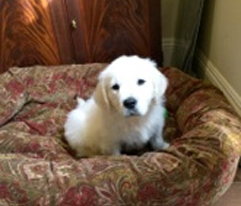 Hi Elaine,
This is a fantastic puppy! So smart and is already acclimated to the house and yard. If you tell him "leave it" he does. If you ask him to "heal" he does. He does almost everything on command…..pretty remarkable for 10 wks old.
Everyone has fallen in love with Moses. Our cats even like him…..Mr. Personality!!!!
I think I am taking him out too many times for potty breaks….he seems to be pretty trained for this as well…
He really likes to be where we are in the house…..he even posed for the picture here!!!!
My husband loves him and thinks he is the best puppy!!!
Thank you from the bottom of my heart!!!
Sharon (CA)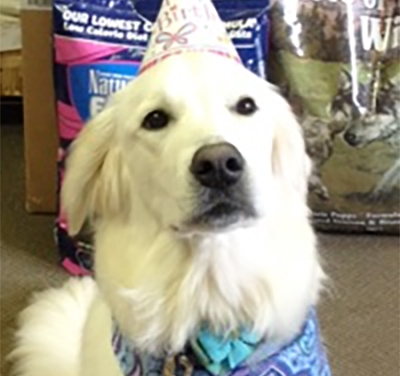 Hi Elaine,
I want to share with you again how much we absolutely love our English Golden Retriever! "Maddy" is such a sweet, well-mannered dog. Her "personality" is so kind and gentle. She is very easy to train; she picks new commands quickly and seems to inherently know what she should and shouldn't do. She only plays with her toys, never any furniture or shoes, she doesn't beg for people food, she doesn't jump or bark or nip and never did go through that biting/chewing phase. She really likes to chew the antler we got her from a dog store.
She has a Golden Retriever "uncle" named Ridge and a Chocolate Lab best friend named Boone. She loves to play with them when she goes to doggy daycare at my mom's. There are lots of neighbor dog friends too.
Her favorite activities are playing with her toys (she loves to take them all out of the basket at once), hanging out in the yard, walking on the boardwalk, watching TV (she figured out how to turn on the touch screen and I caught her watching Rudolph one day), riding in the car, and spending time with her family, especially snuggling. There is a dog friendly mall and restaurants in Duluth so she even goes shopping and out to eat!
My husband Jaidev has never had a pet and now he can't imagine life without her! He tells her he loves her all the time and is always thinking about her. He says she is the best dog ever! When we have gone on trips he even insists on bringing her souvenirs!
We get stopped every time we go for a walk and people tell us how beautiful she is. We have had many compliments on her temperament, which I give credit to her breeding. Her vet and groomer have both said they can't believe how calm she is for a puppy. I bring pictures of her to work with me to show my patients who are feeling down and seeing her always makes them smile!
We are happy that you picked her out for us, I'm sure they are all wonderful, even though Jaidev insists that we got the best one! It is amazing what a big part of our life she is! Absolutely worth the upfront investment.
Kaitlyn and Jaidev (Duluth, MN)