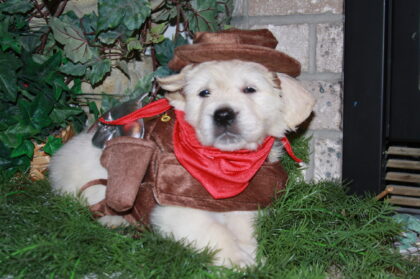 Halloween is just around the corner, and many Golden Retriever owners look forward to dressing up their dogs in adorable costumes. However, not all Halloween costumes are created equal. Some can be uncomfortable, even dangerous, for your Golden Retriever to wear. That's why we've compiled these dos and don'ts so you can pick the right costume for your Goldie.
Do keep it simple
Many dog costumes have so many parts to them that it's uncomfortable for your dog to wear. While that princess costume may look adorable, chances are your Golden Retriever will not like it one bit. Often times, it's the simplest costumes that are the best. For instance, a Halloween-themed dog collar or cute superhero cape will do wonders.
Don't force it
If you're trying to get your dog to wear a costume and they're just not having it, then don't force it. Some Golden Retrievers are happy wearing anything, but others are not. After all, you don't want your dog to be unhappy.
Do try on the costume beforehand
By having your dog try on the costume before Halloween, you can figure out if it is comfortable and safe for your pup to wear. Some costumes are uncomfortable or may even cause your dog to overheat. As such, trying on the costume ahead of time will help you determine if this costume will work or if you need to ditch it.
Don't hide your dog's tags
Halloween can be stressful, even for the usually laid-back Golden Retriever. Some dogs get so anxious they run off. That's why it's essential you keep your dog's tags visible at all times. That way, if they do run off and someone finds them, they can bring your pup back home.
For more tips on caring for your Golden Retriever during the Halloween season, contact MN English Golden today!