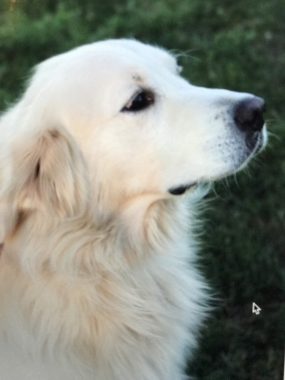 He is an exceptional and amazing Imported Top Quality Best Stud dog in US. Comes from the best of best strong lineage with many Championships. He is calm, obedient and has a true loving temperament. Has a Beautiful Big Blocky Head with a thick silky satin white coat. He has CHIC #, and HIGHEST SCORE of OFA EXCELLENT GENETIC TESTINGS. He has OFA EXCELLENT HIPS CERTIFICATE, OFA ELBOW CERTIFICATE, OFA EYES CERTIFICATE, OFA HEART CERTIFICATE and all CLEAR OFA CERTIFICATE testings including ICT CLEAR. OFA CERTIFICATES and GENETIC TESTINGS assures customers to adopt exceptional extra healthy puppy. He has been DNA profile by the AKC . He has been examine by a Cardiologist Dr again and receive another OFA HEALTH CERTIFICATE for his Heart. We continue doing testings with Cardiologist Dr and Ophthalmologist throughout breeding years. He has produced many years exceptional extra healthy puppies that have been proven to be superior. We have kept one of his outstanding son's to continue this exceptional line in the future that has been proven to be SUPERIOR. We continue to strive for EXCELLENT HEALTH CERTIFICATES GENETIC TESTINGS and ICT CLEAR puppies for many years now. Majority of our goldens have EXCELLENT OFA HEALTH CERTIFICATES and ICT CLEAR to adopt to customers exceptional extra healthy, happy loving puppy.
VIEW BUDDY'S EXCELLENT OFA HEALTH CERTIFICATE
CHIC#: 125867
AKC: SR74011002
DOB:12/10/2011
WEIGHT: 80 lbs
HEIGHT: 24 inches
Hips: EXCELLENT- GR-110837E28M-VPI
Elbows: NORMAL- GR-EL31163M28-VPI
Heart: NORMAL- GR-ACA1639/93M-VPI 9-2019
Eyes: NORMAL- GR-EYE13709/71M-VPI
PRA 1: Progressive Retinal Atrophy: CLEAR/NORMAL- GR-GR1-815/64M-PI
PRA 2: Progressive Retinal Atrophy: CLEAR/NORMAL- GR-GR2-641/64M-PI
PRCD: Progressive Retinal Rod Cone Degeneration: CLEAR/NORMAL- GR-PRA852/64M-PI CLEAR
ICT: ICHTHYOSIS: CLEAR/NORMAL- GR-ICH868/64M-PI
Muscular Dystrophy: CLEAR/NORMAL- GR-MD15/64-PI
COI: Coefficient of Inbreeding: 10 Generation- 4.67% (Less than breed average of 8.54%).