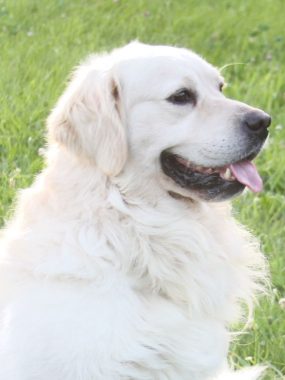 He is another exceptional Imported Top Quality Stud dog. Is a true addition to our family. He is such a fun, true loving, handsome laid back boy. He has a big blocky gorgeous head and thick bone. He loves children and adults of all ages. Loves to give hugs and snuggle. He has a great disposition. He has OFA EXCELLENT/GOOD HEALTH CERTIFICATES and CHIC #. He also has exceptional puppies that has been proven to be superior. He comes from an outstanding strong multiple championship lines that we are thrilled about.
CHSer JchSer BLISS CLUB WINNER '12, '14 MAGIC MASTERPIECE
Int. CH Srg. CH, CroCH, JUN.CH Club Winner 07 Nunsbrook
Penegrine Falcon Qualified for Crufts for Life.
VIEW DUKE'S PEDIGREE

VIEW DUKE'S EXCELLENT/GOOD OFA HEALTH CERTIFICATE
CHIC#: 123955
WEIGHT: 75 lbs
HEIGHT: 23 inches
HIPS: GOOD – OFA- GR-117764G25M-VPI
THYROID: NORMAL – OFA- GR-TH3034/17M/P-VPI
EYES: CLEAR/NORMAL – OFA- GR-EYE11262/59M-VPI
ELBOWS: NORMAL – OFA- GR-ELEL37620M25-VPI
HEART: CLEAR/NORMAL – OFA- GR-ACA1457/59M -VPI 11-2019
NEW ADVANCED CARDIO – Normal –OFA- GR ACA1457/34M-VPI
PATELLAS: NORMAL –OFA- GR-PA1022/17M/P-VPI
ICH: Carrier (only bred to clear – Puppies will not be affected) ICHTHYOSIS
PRA1: CLEAR/NORMAL – OFA- GR-GR1-587/24M-PI PROGRESSIVE RETINAL ATROPHY
PRA2: CLEAR/NORMAL –OFA- GR-GR2-412/24M-PI PROGRESSIVE RETINAL ATROPHY
PRCD : Clear/Normal-OFA- GR-PRA634/24M-PI Progressive Retinal Rod Cone Degeneration
MD: CLEAR/NORMAL – Animal Genetics DEGENERATIVE MYELOPATHY: CLEAR/NORMAL – Paw Print Genetics MUSCULAR DYSTROPHY
EPIDERMYOLYSIS BULLOSA (HEREDITARY SKIN DISEASE) – CLEAR/NORMAL- Paw Print Genetics
OSTEOGENESIS IMPERFECTA GOLDEN RETRIEVER TYPE (BRITTLE BONE DISEASE) – CLEAR/NORMAL – Paw Print Genetics
SENSORY ATAXIC NEUROPATHY – CLEAR/NORMAL- Paw Print Genetics
DM: Degenerative Myelopathy
NCL : Neuronal Ceroid Lipofuscinosis
COI: 10 Generation- 6.09% (Less than breed average of 8.72%). COEFFICIENT OF INBREEDING